THE SKILLSUSA 2014 NATIONAL GRAPHIC COMMUNICATIONS CONTEST IS NOW AVAILABLE FOR DOWNLOAD BY YOUR SKILLSUSA STATE DIRECTOR AND COORDINATORS WHICH CAN BE USED FOR YOUR 2015 STATE CONTEST




Digital Press was an official part of the 2014 Graphic Communications Contest as introduced at Nationals in 2013.  Check back for updates from this year's contest.  

It's was an exciting year in Kansas City!      

SEE YOU IN LOUISVILLE KY 2015
SkillsUSA GRAPHIC COMMUNICATIONS CHAMPIONS 2014
SkillsUSA National Graphic Communications Contest
MIKE ROWE - SOMEBODY'S GOTTA DO IT...
Our Goal is to support Education by means of support from all areas of the printing Industry.  We want  to make it as easy as possible for every State to be a part of the SkillsUSA Graphic Communications Contest.  Part of this years National Graphic Communications Contest will be available for your following years State Contest.  This should help level the playing field among States, as everyone will have the same test available that mirrors parts of the National Competition.  Instruction and score sheets along with pdf's will be available.  The National Technical Committee and the National Education Team will provide information to assist you with moving your State competition forward.  We want to see every State participate at the National level.  It doesn't end there!!!  Students who compete at the National Competition will have the opportunity  to be selected to compete against other countries in the WORLD SKILLS Competition. Get Involved - Get Motivated - Get Started - and Get Back into the Game!  Think you don't have the competitive edge to be involved because of the equipment available at your State level?  Think again!  We give a comprehensive 3 hour training session on press and a 3 hour training session on other areas of the competition the day before students compete.  On top of that we invite all Instructors to a 1.5 hour Training session so they are familiar with the equipment the contestants will be using.  We want everyone to have the best experience possible.  This experience doesn't end after the competition is over.  We are here for you for whatever printing questions you may have with your Regional and State competitions throughout the school year.  We have a highly trained Technical and Educational Team that is here for "YOU" our future and current leaders of the printing industry - This is truly where Education meets Industry… Be a part of it…

DO YOU HAVE WHAT IT TAKES TO BE A LEADER - WE THINK YOU DO
SkillsUSA GRAPHIC COMMUNICATIONS CHAMPIONS 2013
Click on images to view full size
 SkillsUSA National Graphic Communications Contest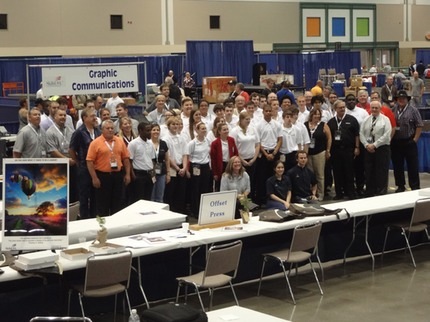 Group photo from the 2013 contest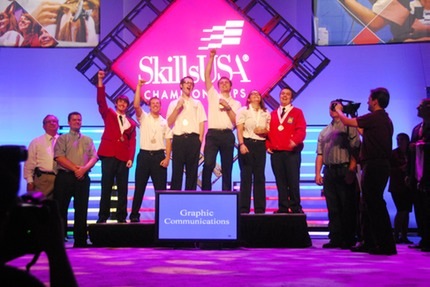 SkillsUSA GRAPHIC COMMUNICATIONS CHAMPIONS 2012
First group picture from the 2012 contest!

 SkillsUSA National Graphic Communications Contest